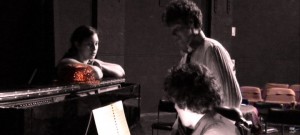 Roman Benedict is a composer, multi-instrumentalist, orchestrator and music director based in London. Roman attended St. Andrew's Cathedral School on a music scholarship, before completing a Bachelor of Arts (Music & Performance Studies) (Hons I) at the University of Sydney. Most recently, he studied composition at the Guildhall School of Music and Drama, obtaining an MMus in Composition. He began composing and arranging for his school ensembles, and later for a wide range of university projects, including a series of scores for plays such as Eurydice (by Sarah Ruhl, directed by Pierce Wilcox for the Verge Arts Festival in 2009), The 39 Steps (Patrick Barlow adaptation, also directed by Wilcox, for the Sydney Fringe Festival 2011), Hamlet (directed by Paul Eastway, 2011) and Twelfth Night (directed by Patsy Rodenburg). He has written jingles and idents for the gatecrash podcast network
Roman's compositions and arrangements have been performed in Australia, New Zealand, the United Kingdom, Italy, and broadcast on ABC Classic FM, 2MBS FM and online.
Prizes
2014, FineMusicFM/Willoughby Symphony Composition Prize, AMCOZ Encouragement Award
2013, Australian and New Zealand Viola Society Composition Competition, First Prize, Ensemble
2012-2013, Ars Musica Australis, Fellowship
2011, PALM Awards, Classical Music 2nd Place, People's Choice winner

Selected Works
Orchestra
Fishing Tune (2016) – Arrangement of traditional Chinese tune for china tours of The Halle and Britten Sinfonia
Jumping the Groove (2014) – Concerto for Violin, strings and percussion, won AMCOZ Encouragement Award
Chamber Music
Eventide (2015) – Fantasia on Abide With Me for String Quartet and Electronics
Un/Winding (2013) – instrumental work workshopped by Chroma Ensemble
Entanglement (2012) – piano duet and percussion
Four (2011) – Viola quartet in three movements, won ANZVS composition competition
Choral
Agnus Dei (2014) – Work for SATB choir and organ commissioned for a Catholic funeral service
Vox-Box (2013) – a new vocal work for mezzo soprano, violin and viola, premiered at Wigmore Hall
Mass (2010) – Choral Mass, won PALM awards peoples choice
Theatre/Dance
Twelfth Night (2013) – Silk St Theatre dir. Patsy Rodenberg
Giving Space (2013) – The Place, contemporary dance collaboration with Joseph Toonga
Hamlet (2012) – Zenith Theatre dir. Paul Eastway
The 39 Steps (2011) – Sydney Fringe Festival, dir. Pierce Wilcox
Sarah Ruhl's Eurydice (2009) – Verge Arts Festival dir. Pierce Wilcox
Portfolio
Production Music
Roman has written jingles and underscores for podcasts and theatre. Examples can be found on his soundcloud, with more information coming soon about production music for sale and use – contact me for more info!
Shop